Discover more from Elle, the Foodie
a kitchen journal from a retired takeout queen turned self-taught chef and food entrepreneur.
Air Fryer Pizza Bagels
This recipe has become my favorite way to sneak a meal in during the day when baking or for a quick dinner after a long night on the hotline. Completely customizable and reminds me of a childhood fav!
Hi! Before sharing, I wanted to have a little chat! Farmers Market season has been picked up and we're going to be baking our asses off this summer- I'm so excited. I wanted to check in because honestly, I get so bored with sharing recipes however love it when I hear that there's someone who loves trying my new dishes. I love to create and want to continue but I'd like to try different formats. Let me know in the comments: are you actually trying these recipes? (no problem, if not!) Did you enjoy this format or the traditional recipe format I'd been using?
Thanks for your feedback!
Did I tell you all that I stopped working a full-time job on the line? It's been so helpful with my creativity and given me so much more time to bake and write content. My problem is, I still like to work 10 hours days at home without a decent meal. I've been working on showing up for myself in all ways possible and have been forcing myself to stop and have a meal on busy days. Like right now, I'm baking 200 cookies, writing this newsletter, and nibbling on chicken wings I forgot that I door-dashed.
Those Ore-Rida Pizza Bagels got me through life, man. Not sure why they were such a favorite childhood snack of mine, I even ate them in college during midterms and finals. I'm so glad that we can enjoy them as adults without the guilt of eating such processed foods. Because that pepperoni can't be real but not too much on them! I'll stop rambling but like most of my dishes, this can be customized depending on what you have on hand. This is a quick meal so I grabbed some jarred pizza sauce and red pepper pesto for the base and added all of my favorite toppings like fresh mozzarella, parmesan, cherry tomatoes, pepperoni, and some basil I found at the bottom of the vegetable drawer. Be sure to sprinkle with dried oregano, freshly grated parmesan if needed, and of course EVOO.
So, we're starting off with the bagel of your choice. I chose an asiago bagel because I mean- look at it! Ugh, so good. And then once we pop it into the air fryer, the cheese will get melty crith a little crunch. It's a great time, you'll just have to trust me. I made a little oil mixture to brush on the inside of the bagel (once sliced) with my silicone brush. The recipe is pretty simple, I just used what I had in my cabinet.
¼ cup Extra Virgin Olive Oil

3 Garlic Cloves, minced

1 tbsp Dried Oregano

½ tsp sea salt

1 tsp Dried Red Pepper Flakes

1 tsp Freshly Cracked Black Pepper
Okay, so I sliced the bagels in half and brushed them with the oil mixture I made. Then, I placed the bagels in the air fryer at 400F for 2 minutes. Once the bagels are done, I brushed them with my pizza sauce (I usually use whatever is seasonal at Aldi or Trader Joe's, or Classico). This week I tried the Classico And then add all of your ingredients! I'll post a pic below of what I used but here are some inspiration items for your pizza bagels. After topping the bagel slices, place them back in the air fryer and cook for 5 to 7 minutes. I usually choose 6 to 7 minutes for a little crisp.
Fresh mozzerella cheese, romano, grated parm, feta crumbles

Fresh or dried basil

Roasted Red Peppers

Roma or cherry tomatoes

Capers

Olives

Sausage or pepperoni

Banana Pepper rings or Jalepenos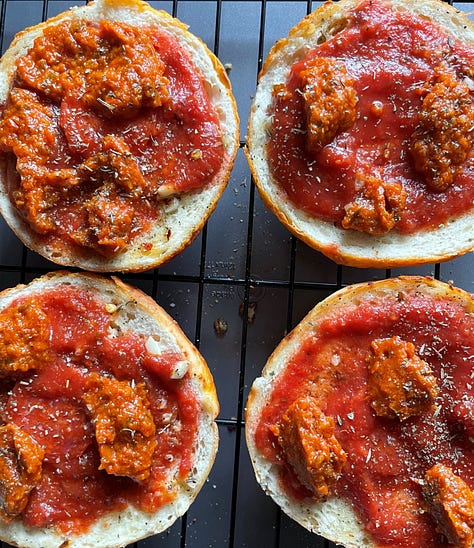 Homegirl Kitchen is a reader-supported publication. Free + paid subscriptions allow Elle, the Foodie to create recipes and share her passion for food with hopes of enhancing your time in the kitchen and love for cuisine